I've been trying to establish Zenith's history for long time. There's some of her history over at http://www.pegasus18.com/zenith/2020/01/10/some-of-zeniths-background/ and the following information was provided by the International Canoe Association about 15 years ago
Zenith – No: 26

Dimensions: 17'x43″

Designer: Sven Thorell (Oslo)

Builder: Nunn Bros, Waldringfield

Date: 1935

First Owner: H.L.Paxton

International canoe association
Having had communication from Mike Nunn (Ernie Nunn's Nephew) there was no evidence that Zenith was built by Nunn Bros and I'd suspected that Zenith was built in Sweden prior to the IIIB rule change in 1931 and imported in the UK.
A couple of days ago an interesting discussion related to older International Canoes took place on the International Canoe FaceBook Group and Patrick Marshall uploaded the following pages from publication called Canoe Sailing. No author is shown on the publication but Patrick's copy was presented by Roger de Quincey in 1937 and Patrick expects that Roger had a hand in its production.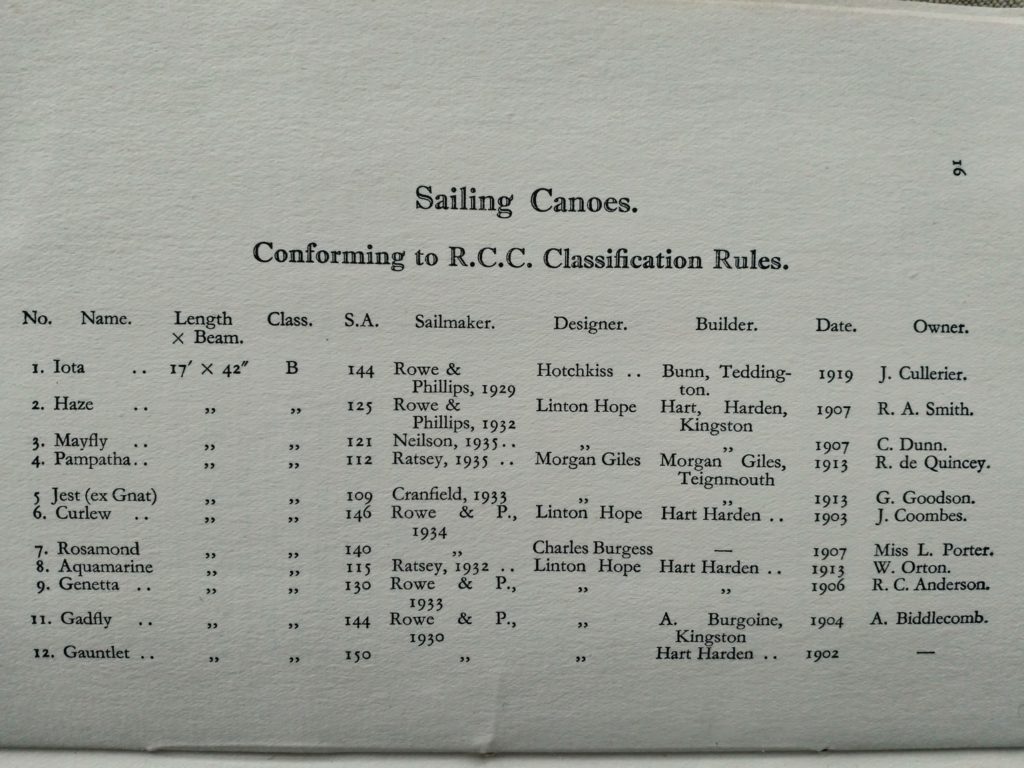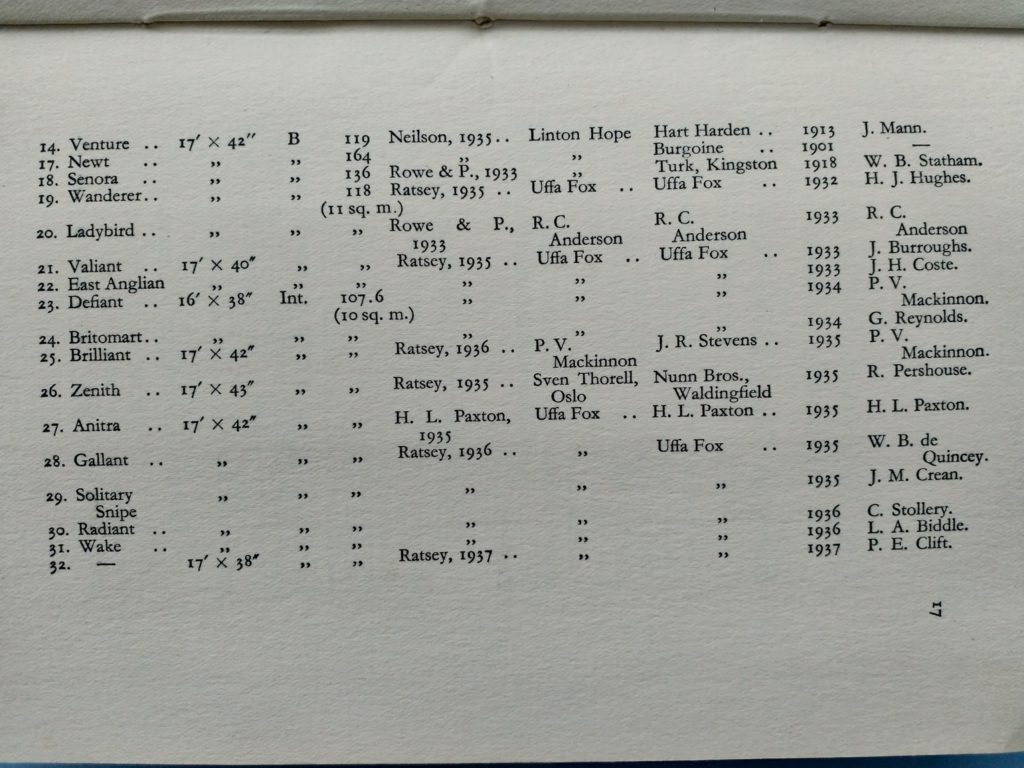 This lists all the Canoes that conform to the Royal Canoe Club Rules (the International Canoe Rules of that time) and include a number of UK 'B' Class Canoes that have been grandfathered into the Class. Note that this list does not include:
10 – Curlew, designed by Linton Hope
13 – Dolphin
15 – Unknown
16 – Tricia
This document lists Zenith as being designed by Sven Thorell, Oslo, and built by Nunn Bros of Waldringfield in 1935 with Ratsey sails. She was classed as an International Canoe, and owned by R. Pershouse.
At first glance this would seem strong proof about Zenith's origins given that the document is from 1937 and Roger de Quincey, a figure of significant importance in the development of the International Canoe, may have been involved in collating the information. However there are some areas of concern in the accuracy of the data such as Zenith being built by Nunn Bros, Sven Thorell being from Oslo (he was Swedish not Norwegian) and Radiant being built by Uffa Fox, Uffa writes about designing Radiant, but not of her build.
Luckily I managed to communicate with Mike Nunn and Roger Stollery last year and found that Nunn Bros only built one canoe and this was for Cyril Stollery, and Cyril only owned one canoe. This has to be Radiant (K30) an Uffa Fox designed boat.
I've been doing some digging on Richard Pershouse and there's some interesting Canoe related relationships.
Roger de Quincey and R.H.Pershouse (I think this is Robert, Richard Perhouse's father) set up the first Tumlare fleet (supported by Uffa Fox) at Aldeburgh in 1935, as according to http://www.tumlare.org.uk/history.html:
"The British fleet was kick-started by Uffa Fox who cajoled a group of sailors to order six which were delivered to the Aldeburgh Boatyard in 1935.
– 25 Zest, for Roger de Quincey
– 26 Jill, for R.H.Pershouse
– 27 Zara, for G.C. Pritt
– 28 Vanda, for Col .Franklin-
– 29 Edith, for Graham Goodson
– 30 Alert, for Sir Ernest Roney"
So it would appear that Eris Nunn, Cyril Stollery, Roger De Quincey , Uffa Fox and Richard Pershouse were all known to each other, hence Eric building Cyril an IC to an Uffa design.
The International Canoe Association have HL Paxton as Zenith's owner in 1935, but seeing this information it looks like the name has been transposed, and it makes more sense for Richard Pershouse to be the owner at that time
I'm pretty convinced that Zenith was imported from Sweden at some point before 1931 (as she is definitely a Sven Thorell design prior to the 1931 rule changes) as I can't see anyone building to a what would be an outdated Swedish design when there was plenty of UK design experience to call upon and Uffa had the market cornered. I suspect that errors in this 1937 publication have entered the International Canoe class records for many years causing plenty of confusion.
Update 10 May 2021.
Having discovered more information I'm now convinced Zenith was imported to the UK in 1935. Further information in The Tumlare connection post