I know some of Zenith's history, I'm hoping that someone out there might be able to fill in the gaps. If you know anything about Zenith please make contact!
The International Canoe Association was able to provide some information about Zenith. The information in the Class records is:
Zenith – No: 26
Dimensions: 17'x43″
Designer: Sven Thorell (Oslo)
Builder: Nunn Bros, Waldringfield
Date: 1935
First Owner: H.L.Paxton

International canoe Association
Whilst this information was initially useful it has proven to be slightly wrong. It is very useful to know the designer is Sven Thorell (see the Sven Thorell and Sol post for more information about the designer), though as Thorell came from Sweden I'm not sure about the Oslo reference!
The information about Nunn Bros being the builder has shown to be wrong. I was fortunate to have this confirmed by Mike Nunn, the son of Harry Nunn, who confirmed that Nunn Bros of Waldringfield only built one sailing canoe – for Cyril Stollery (this is Radiant, an Uffa Fox designed International Canoe). If you are interested there is a great history of Nunn Bros in the Boatyard chapter of the Waldringfield on the River Deben book by the Waldringfield History Group.
So, back to the history.
In 1935 Zenith is registered as an International Canoe by one H.L.Paxton, and issued with a sail number K26. Apparently she was sailing as a Royal Canoe Club 'B' Class canoe, having been imported to the UK from Sweden in about 1926.
I am currently researching the Swedish connection(see the Sven Thorell and Sol post) and am trying to establish
(1) where and by who Zenith was built
(2) when Zenith was imported to the UK
In 1946 Zenith was bought by Barry Bucknell, father of the Mirror dinghy. I was lucky enough to speak with Barry's widow Betty in 2004. She sailed the boat back from Cowes on the Isle of Wight to Hayling Island with Barry and remembers it being an exhilarating passage. She understood that Zenith was a one-off boat designed by Uffa Fox. I was able to discount this thanks to an email exchange with Mike Dixon, Uffa's nephew.
In 1951 Barry Bucknell sold Zenith to Prof Michael French . I was fortunate to speak to Michael, he had owned Zenith from 1951 to 1953. I also was lucky to make contact with Ron Head in 2004, Ron took many photographs of International Canoes in the 1950s and 1960s and was able to send me the only picture I have of Zenith, taken in 1953 with Michael French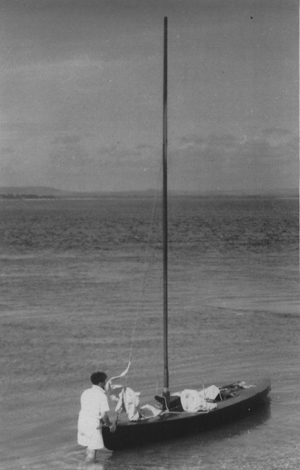 After 1953 the trail goes cold.
Andrew Eastwood found Zenith in the late 1990s and recounts the story:
"about 20 years ago I came across a canoe lying derelict and persuaded the owner to let me take it. It was a canoe called 'Zenith' registered as K 26 by the Royal Canoe Club. She was originally a Swedish B canoe but measured as a RCC B class under the rules of the time. The UK numbering for the IC (10 sq M canoe) is a continuation of the numbering started for the B class."

from https://earwigoagin.blogspot.com/2019/01/part-2-mystery-sailing-canoe-how-her.html
I took custodianship of Zenith in 2004. I'd love to know her history, if you know anything please make contact!
January 2020 Update
Following new information that has come to light there's an update to Zenith's history at http://www.pegasus18.com/zenith/2021/01/10/zeniths-history-now-a-little-clearer-or-less-muddier/