Zenith remained in the boat shed until 2012. When I'd built this shed it was very much on a budget and by 2012 it was obvious that it would not last another winter. Wildlife had started to move in, requiring my large collection of sails from various boats (see www.pegasus18.com/dinghies for my fleet) to be stored in tubes.
The turning point was finding my wetsuit boots full of hazelnuts as the local squirrels found an ideal winter storage container. A new 20′ shed was ordered and Zenith moved into my workshop while the new shed was built. The nice new dry and rodent proof shed became the home for Rannoch, Stand Up Paddle Boards, Kayaks, sail storage ands sailing gear.
With Zenith in the workshop the restoration work could finally start.
As she was completely dry the first job was to remove all the paint. Over the years she's had a at least 3 different colours of paint applied to the cockpit area, along with red lead and glass fibre paste applied to the seams. In some place the paint and filler was 1/4″ thick, a smooth coating between the ribs.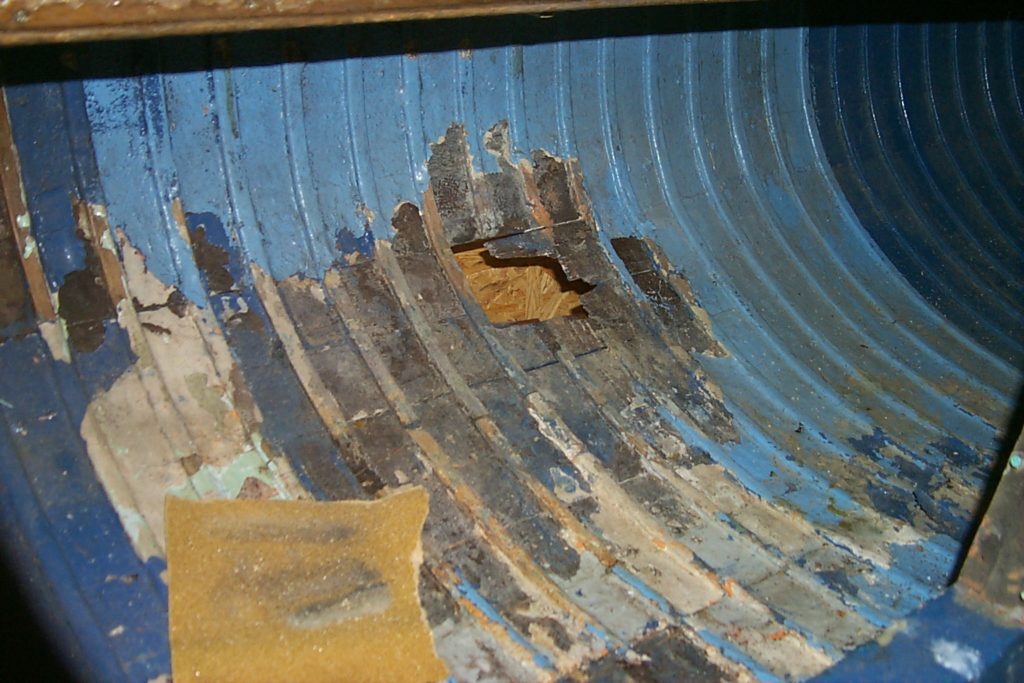 Removing all the paint finally exposed all the ribs, and over 90 were broken requiring replacement and the full extent of the holes in the hull became obvious.
The primary consideration was to source oak for the ribs and some mahogany for the replacement planking. Fortunately John Moody Marine Timber is local so an email exchange resulted in John machining 100 replacement ribs (1m long x 12mm x 6mm) and a few metres of old stock Honduras Mahogany left over from a superyacht restoration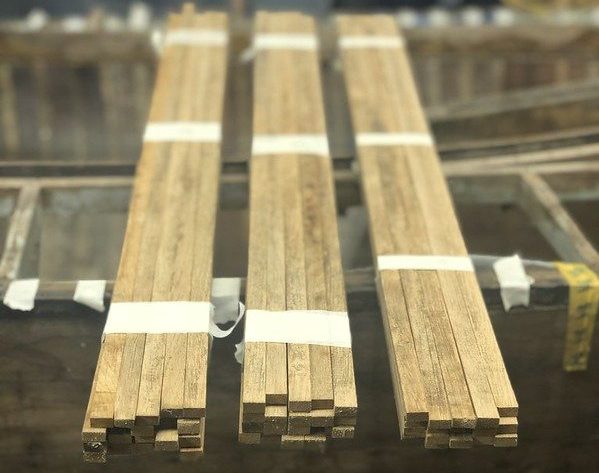 With the materials now at hand the next issue was to source/build a steamer. Luckily my parents had a wallpaper steamer they no longer required. This attached to an old Merlin Rocket aluminium boom and copious quantities of duct tape made the ideal steamer. This video (made a few years ago) shows the steamer in action
Once the steamer was in operation there was no excuse and the bow and stern tanks had their broken ribs replaced.
This work took a couple of years as various distractions got in the way, including the purchase of a HiT dinghy, a Megabyte, a Classic Range Rover and the long wheel base Land Rover Discovery prototype. Looking at the dates on various photos the timescale was:
25th August 2012 Zenith gets in the workshop
22nd October 2012, first rib goes in
October 2014 Bow and Stern Tank being worked on
4th January 2015 Bow and Stern tanks finished
Work was progressing slowly but surely until early 2015, but a decision to move house made in late 2015 meant that work on Zenith was put on hold for a few years while the move and subsequent work in the new house took priority.
Fast forward to December 2019 and work on Zenith resumed!