After repairing the the hog and keel it was time to replace the broken ribs. As I had the seats out and everything stripped out of the boat I had a good look at all the ribs and found that the rear full width ribs  needed replacing along with a couple on the starboard side. So, after a quick call to Dennis at Dartmoor Hardwoods in Princetown I had enough oak to do the job and all the new ribs were steamed in and fixed in the copper rivits and roves.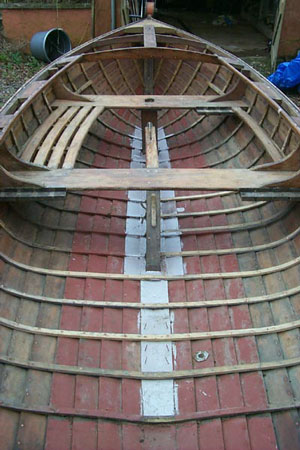 New ribs installed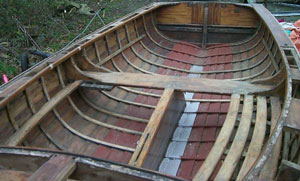 New ribs installed
Once the new ribs were put in it was time to turn the boat over and strip off all the varnish. I took the boat back to bare wood and spent a happy couple of weeks applying 2 coats of UPC followed by about 14 coats of Schooner varnish. At least I think it was 14 coats…..I lost count toward the end.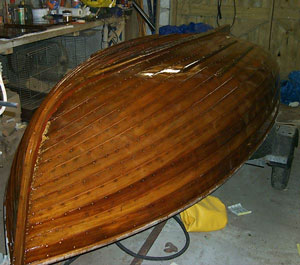 Shiney varnish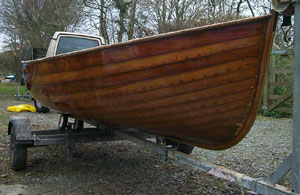 Starboard side all finished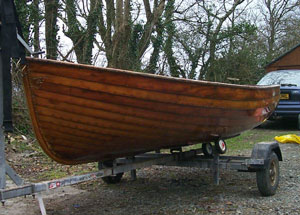 Port side all finished
With the hull varnished it was time to sort out the interior, this was given 7 coats of Le Tonkinois and the bildes treated to a few coats of bilge paint.
The decks were in a poor state, despite only having been replaced a few years ago, but they weren't varnished underneath and had weathered badly. A trip to Robbins of Bristol was called for and I returned with a lovely sheet of Super Eclipse Mahogany Ply with an excellent grain. All that need to happen now was to glue it to the decks beams using bags of sand and loads of clamps to secure it in place.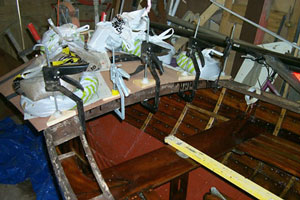 Securing the foredeck took lots of clamps and bags of sand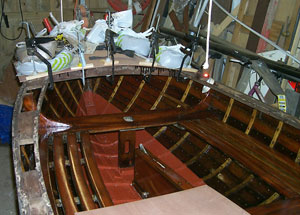 The le Tonkinois looks great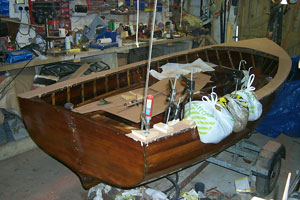 The last side deck being glued in place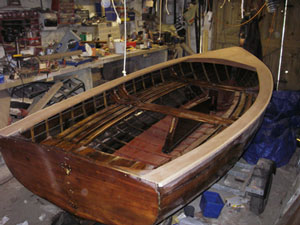 Sidedecks finished with new gunwhale in place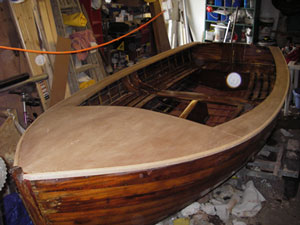 Sidedecks finished with new gunwhale in place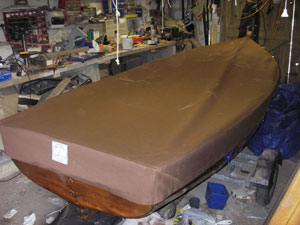 To protect the decks I had a new breathable cover made by R&J Sails in Clifton
With the new ribs, the hull varnished inside and out and new decks fitted and varnished (another 14 coats I think) it was time to rig the boat and go sailing