ToY 117  
Having sold our racing boat, Rocket Flare (a Flare 25), we ended up down sizing to a Flying Fifteen. I decided to get back into dinghy sailing after an absence of 15 years.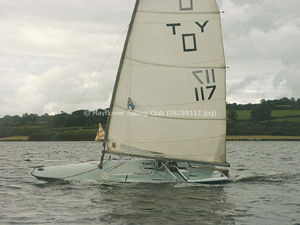 I looked at the crop of current single handers (and got confused with the choice) and decided I was too old for a trapeze boat such as the Contender, too heavy for a Laser, and to unfit to sail a Finn. Having always fancied an International Canoe (one day I promised myself) the idea of a sliding seat seemed to appeal.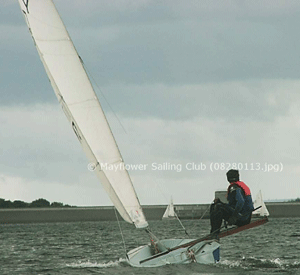 A quick browse of the classified ads saw me on my way to Evesham railway station where a handfull of cash was exchanged for ToY 117. After a repaint I got my first ducking from a major wipeout from an out of control ToY.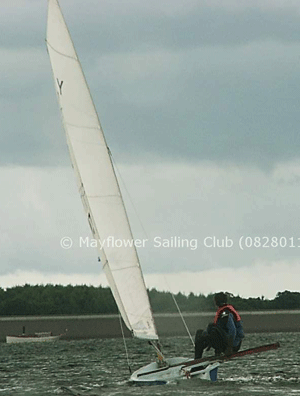 The ToY was designed by Tony Allen (of Holt-Allen fame) in 1964 for the IYRU trails to find a a successor to the Finn as the Olympic single handed dinghy.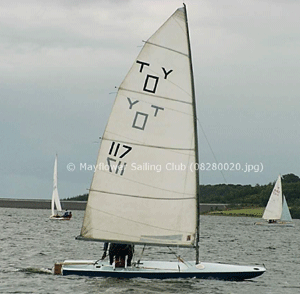 The name ToY comes from Tony's Own Yacht. The hull is hard chine, narrow with a foredeck and very narrow side decks. She has an open transom and is fitted with a sliding seat.The rig is fully battened.
LOA: 4.57m
Beam: 1.22m
Draft: 1.07m
Sail Area: 10.2m2
Having the ToY was a baptism of fire, at my first CVRDA event I managed to capsize it on the beach (very embarrassing), fallen of the end of the seat at full speed (and it hurts) and managed to capsize 12 times in a row.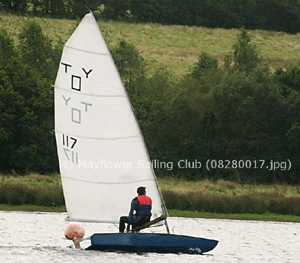 It's very easy to get the boat caught head to wind, and the boat is very unstable in this condition. Despite the ToY being a challenging boat to sail, it's also one that's fun to sail. For a couple of hundred pounds I think it was money well spent.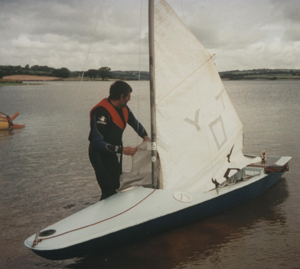 Moving to the International Canoe was relatively easy after sailing the ToY, but as an introduction to the sliding seat it was an ideal boat to have. This ToY is now in Scotland where she has been rebuilt and no doubt giving her new owner a good time.