Spearhead 16 – Space Invader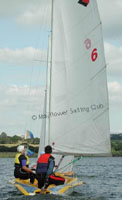 The Spearhead was found on the ukdinghyracing website and was bought sight unseen where a envelope of cash was exchanged for the boat in a Motorway service station on the M4. My boat was number 16. The photos show number 6 – obviously the "1" has fallen off.
Due to having too many boats I needed to make some space so I sold 'Space Invader' in early 2004 on eBay.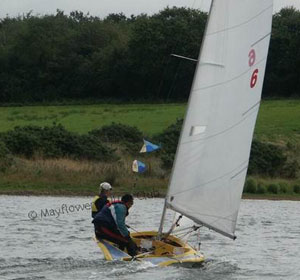 The Spearhead class dates from the 1980s. Only about 24 were built before the moulds were destroyed by fire. At the same time the designer died so the class had no future, which is a shame as the boat was very advanced for the time.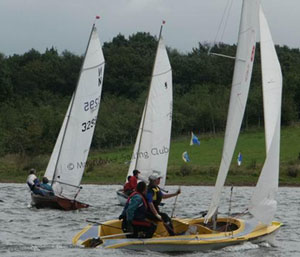 The hull is built from Kevlar (yes all of it) allowing a thin, light laminate whilst remaining very strong. The rig is supported via a space frame so no rig loads are transferred onto the hull.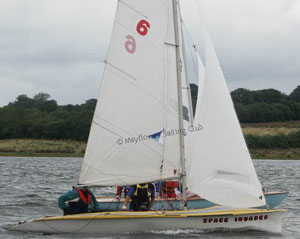 As you can see by the photos she has some very distinctive design features, a retrousse stern, a cut-away for the rudder and a slight bulbous bow. It's been said that she looks like a giant merlin rocket as she is 18' long with a beam of just over 6'.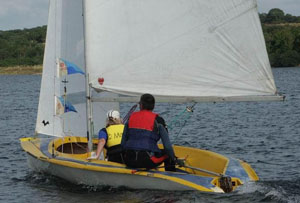 The Spearhead is a fast but forgiving dinghy fitted with trapeze and spinnaker. I used her to teach my partner to sail as well as racing her against other performance dinghies (though it looks like the Tideway is beating us here).