International Canoe K26 – Zenith 
Zenith is very much a winter project. I had been aware of Zenith for a year or so before being able to head up to Loch Lomond to collect both her and Rannoch. Andrew Eastwood, responsible for the excellent restoration of Rannoch, found Zenith in a field,. He recognised her as a sailing canoe and thus saved her from rotting away. She is a 'B' Class sailing canoe and was sailed as an International canoe from the mid 1930s.
 Zenith's history is starting to come together. I have heard three theories about her origins:
(1) she's a Swedish 'B' Class canoe built in about 1926 and registered as an International canoe in the UK in 1935;
(2) she was built by Nunn Bros in about 1926;
(3) she was built by Uffa Fox as a one-off.
Thankfully Peter Wells emailed me with the following information:
Zenith – No: 26
Dimensions: 17'x43″
Designer: Sven Thorell (Oslo)
Builder: Nunn Bros, Waldringfield
Date: 1935
First Owner: H.L.Paxton
If anyone out there knows anything about Zenith please contact me.
I have been able to track down some of the previous owners. Zenith was owned by Barry Bucknell (the father of the Mirror dinghy) from about 1946 to 1951. She was then sold to Micheal French who had the boat until 1953.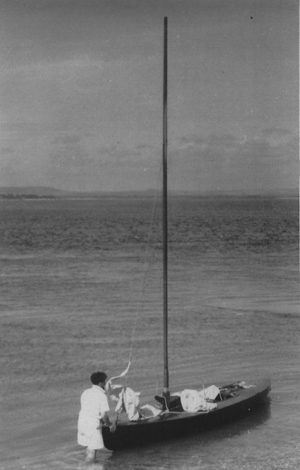 Zenith in 1953. Photo © Ron Head