Flare 25 GBR 1 – Rocket Flare
After a couple of years of home ownership we decided that it was time to buy a boat. As I had spent most of the 1980s sailing 1/4, 1/2, 3/4, 1 Tonners and the odd spell grinding on Maxis I spent some time looking at old IOR boats.
The only boats in budget were old 1/4 tonners but old meant old and even though the boats we saw came loaded with sails the lack of interiors meant that an alternative had to be found.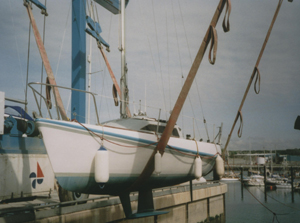 We ended up with Rocket Flare, a John Westell designed Flare 25. She needed a bit of work – refairing around the keel and the odd repair. As it happened we did not get much use from her when we moved inland we decided to sell her and go dinghy sailing for a while.
Ironically Rocket Flare had a very limited interior as she was the prototype for the class and she only had 2 berths. Later boats were 4 berth and came with a choice of long or winged keel.